Your Space to Create 24/7
Grow your passions in your own space at Lockout Music Studios.
Available anytime your inspiration strikes.
Lockout Rehearsal Studios + Creative Space
Lockout Music Studios is your premier rehearsal studio and creative space source offering rehearsal rooms for a variety of needs from live bands, solo artists, DJs, music producers, and music teachers. All rooms are acoustically correct and available 24 hours a day, 7 days a week.
Our Lockout Studio Locations
Spend less time sitting on the freeway
and more time creating.
With zero grumpy neighbors to call and complain.
Room sizes:
55 Sq. Feet – 1,400 Sq. Feet
Book Your Tour Today!
Fill out our brief form and schedule your tour of the location nearest you.
Lockout Music Studios is your space to create. All studios are ready for to go hard 24/7 or keep it chill. Studio uses are up to you (but you can't live here, ok).
Here's a few of the most common ways folks use Lockout Studios.
DJs + Producers
Looking for the perfect beat.
DJs + Producers
Produce your latest beat or run through some live set ideas anytime of day or night. It's your space — you have the key. Come in after the club and get your ideas down — or pull a marathon session for days on end.
Band Practice
Time to get out of the garage.
Band Practice
If the neighbors said you're too loud, or you're a professional group trying to polish up your songs before hitting the recording studio, Lockout Studios is your solution. We have different sizes to choose from at each location.
Creative Office Space
Thanks... that would be great.
Creative Office Space
You don't wear a tie or clock in at 8:00am but that doesn't mean you don't need some space to run your hustle. Your neighbors are going to be way cooler here (and no side-eye for your shorts or sneakers.)
Recording Studio
... but it needs more cowbell.
Recording Studio
Bring down your old reel-to-reel and board or just a laptop with ProTools — our rooms are ready for you to lay down some tracks or vocals. Come in any time to capture that riff in your head or that perfect counter melody you can't stop humming.
Fine Art Studio
"Who want to be a painter man?"
Fina Art Studio
If you do some of your best work in the wee hours of the AM when the rest of the world is asleep, don't worry about waking your roommates during another all night painting binge — rent a Lockout studio.
Music Lessons
Every good boy does fine.
Music Lessons
Need a space where new musicians can hit a few sour notes and skronks without panicking your family pets? Meet your pupils at Lockout Studios! All our locations are freeway close and conveniently located for both you and your clients.
Photo Studio
Let me take your photo.
Photo Studio
Bring in your clients at whatever hour is good for them! You can build your own photography studio here for glamour shots, headshots, fashion and editorial shoots. (And there's probably some bands and artists in the building who could use some good photos too.)
Drum Practice
Pa rum pa pum pum etc...
Drum Practice
If you don't have room in your place or you want to set up a couple kits so two can jam along, we have a room just the size for you. Keep those chops sharp with access to drum-banging all night and all day. 'Cus you're a drummer and you never want to stop.
Sales: 714-361-5220 (Text Preferred)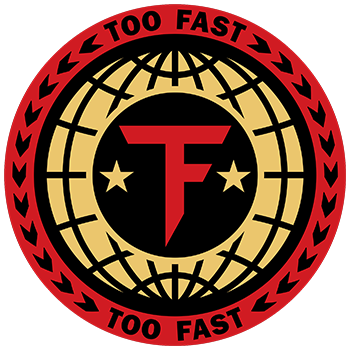 Too Fast
Too Fast is the breakthrough collaboration of three seasoned artists — electronic music producer Cyran, singers K-lien and Dave L — introducing a bracing blend of EDM and Hip-Hop, infused with bold topical themes, weaving a powerful spell that touches heart and head. Forming at our very own Lockout: Santa Ana III "501," Dave L heard signed Circus records EDM artist Cyran making his beats and couldn't resist a collaboration. Check out the video for their first single, "Just Like You."